Alright....The madness has begun!
I posted an intro a few days ago and promised pix.
I just bought this '71 Sassy Grass Green Plymouth Valiant "Scamp" and think I've got a pretty solid platform for my build. She's now equipped with a 225 slant six/904 automatic and drums all around. My intentions are to drop in a 360 (stroked to a 408) with an 833 4-speed and most likely a Ford 9"....Front discs and upgraded torsion bars are a must....I'm also thinking of doing a spring relocation to accomodate slightly larger tires, but don't want to do a mini tub.
I drove the car into my garage complete and the following pix are after a few days of DEMOLITION!!!! All the glass and trim are out/off and the engine is coming out as we speak....Doors are coming off next and I am going to start with all the sheet metal patches and body work along with prepping the engine bay, trunk, jambs and interior sheet metal for prime and paint.
I promised my wife (who is pregnant and due in March) that I would spend VERY LITTLE MONEY over the next year if she gave me her blessing to buy it....I have the COOLEST wife.
If you are wondering, my thread title and project name came from my 3 year old daughter who calls it "Daddy's cool cool green green car"....She's a real PIP!
Any tips, pics, opinions, are welcomed and needed....I'm looking forward to the knowledge here and hopefully I can return some.
Thanks!
This is how she came home: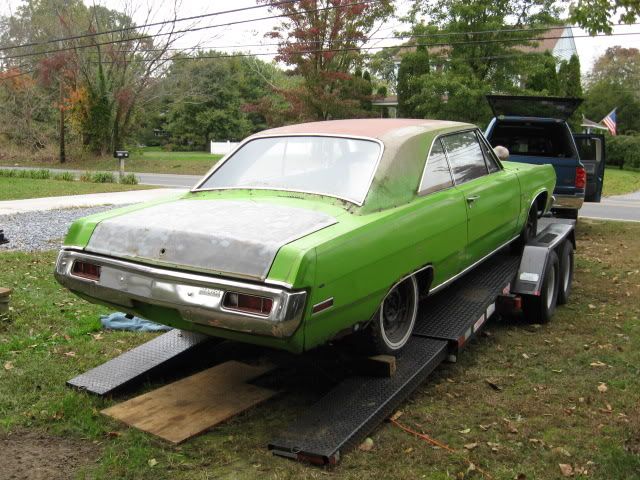 This is how she is now: