So here I am having to join a new forum! I spend a ton of time at cuda-challenger, as I bought a '72 Challenger not all that long ago as my primary means of transportation. Its a 318/904 car, non-numbers matching b3/b5 car. And I've got plenty of things planned for it, including a 340 and a 4 speed, but thats not why I'm here...
See, I did something the other day that was just bound to happen. I look at ebay and craiglist and such to look at cars. Mostly just to see other cars and how they've been restored or set up, occasionally to kick myself when I see a car in better condition than mine sell for less, and of course to tease myself with stuff I can't really afford. But every now and then something pops up that catches my eye, and I have a hard time resisting temptation. Which was what happened before thanksgiving. I saw this nice '71 Dodge Dart GT on eBay, not going for a whole lot of cash. Nice car, but I like the 67-69's better. And then I saw that it was pretty much in the same city. And then I looked up some things on '71 Dart GT's, like how they only made at most 1255 of them. Ugh. So I watched, and figured it would go for more money than I wanted to spend. After all, its an original blue plate CA car, clean as can be. But the bid never went up!
That is of course, until I bid on it. 8)
And won the auction. So I guess I should introduce my new car. Its a 1971 Dodge Dart GT, complete with fender tag with the A65 package. Original GT trim still in place! Its missing a few things, but its an actual, real life, original CA car. No rust. None. A few dents and dings, but with ~82K on the odometer its a real survivor. So after I towed it home (runs only if you prime the carb, then only til the prime wears off, looks like a fuel pump issue) I did some more research, and found out that the EL5 paint was an extra cost option (Yes, that's right, its butterscotch!). And that there are no other cars on the '70/'71 GT registry in that color. Cool deal. So on Thanksgiving I went out and looked to see if I could find a buildsheet. No glovebox, darn. Not behind the seat backs, darn again. After I figured out how to get the rear seat out, bingo! The original buildsheet! :hello1:
So after I put that away, I keep checking things out. Roll underneath to find its a numbers matching car too! And, even more to the point, again, NO RUST! I love this thing already! And its got Swift Dodge of Sacramento license plate frames that look about as old as the plates. Maybe an original Sacramento car?
It is missing a few things, some trim etc. And it needs most of the interior redone, and a new heater switch, and I'm sure countless other things along the way. But man is it clean!
Ok, I know :worthles:, so here's some pictures.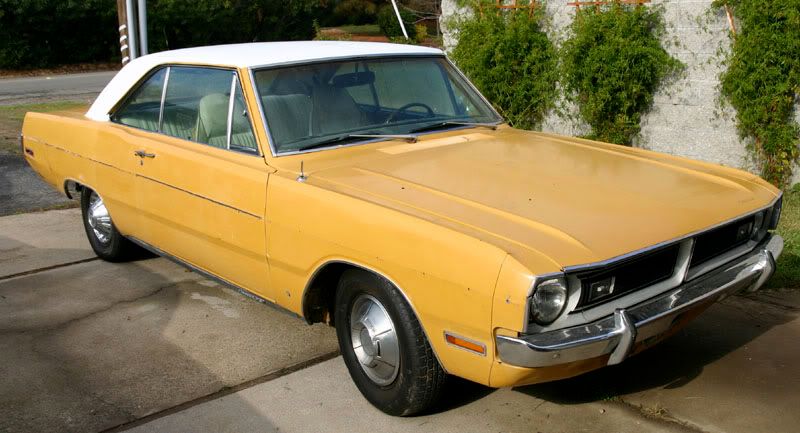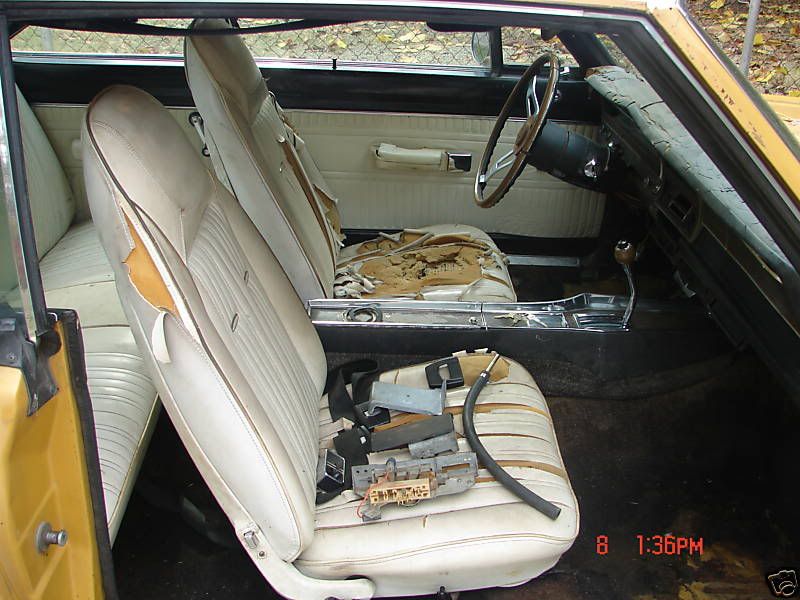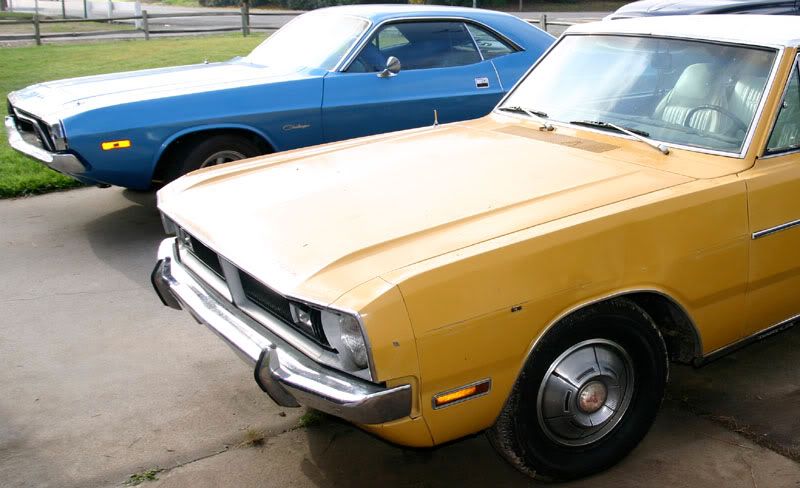 Here's a partial fender tag decode too...
LH23:
Dodge Dart,Demon
High
2 Door Hardtop
G1R: 318 230HP 1-2BBL 8 CYL
1971
Windsor, ONT, CAN
E44: 318 cid 2 barrel V8 230hp
D31: A904 3-Speed Auto Trans.
EL5: Butterscotch Exterior Color
H6XW: Trim - High, Vinyl Bucket Seats, Black/White
TX9: Black Int. Door Frames
415: Build Date: April 15
V1W: Full Vinyl Top, White
U: USA Specifications
A65: Dart GT Package
C16: Console w/Woodgrain Panel
C55: Bucket Seats
F09: Unknown
F11: 46 Amp Alternator (std with AC)
G33: LH Remote Racing Mirror
H51: Air Conditioning with Heater
J31: Dual Horns
M21: Roof drip rail moldings
M25: Wide sill moldings
M31: Belt Moldings
M43: Grille Trim Moldings
N95: Emissions Control
R11: Radio Solid State AM (2 Watts)
V5X: Body Side Stripes, Black
END: End of Sales Codes