I have to get this Stuff out of my Dad's Garage by Jan 31st, and also need to clean up around my place as well!
Here is a list of some of the things I need to get rid of.
-SB 4 bbl manifold Wieand Dual Plane High Rise: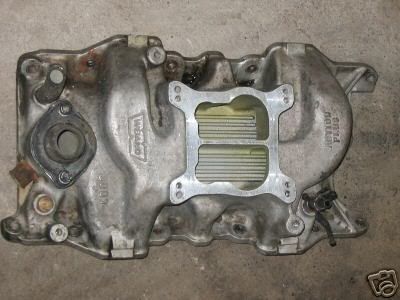 Slant six Headders (Don't Fit my Early A Perhaps for a truck?)
Slant Six Motor (This pic is from when it was still in my car) Still runs good, Has 2bbl intake a 318 2bbl carb(No Choke).
Slant Six 904 - Rebuilt about 2 years ago, probably 2-3,000 Km on it since I had to have it re-built. Obviously works really good. (Sorry No Pics)
Smallblock 727 (36,000 Km) Came attached to my Motor that is in the Cuda Now. I know the guy that I got this from and I trust the milage. The truck sat in a barn for most of its life, it was only used for hauling his camper around. He recently pulled the motor to put in a Cummins!
Plain old Factory SB Valve Covers Like New, still have yellow grease pencil markings on them from 1975. (Will Get Pics)
1 bbl intake manifold for a Slant 6 (Can Get Pics)
Steel wheels Nothing Fancy 2 in SBP 2 in LBP (Come with Free Tires!)
I'm willing to let this stuff go to a good home for Free, i would really appreciate some beer or Canadian Whiskey if you are feeling generous!
I have a giant garbage bin on my front lawn right now that in leaving on the 31st, and this stuff will be in there if no one takes it