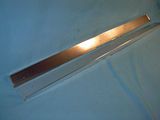 1963-1966 Plymouth and Dodge A-body door sill plates, MY-636ASPP, $138.00/pair.
Shipping would be $20.00 anywhere in the lower 48 states, all other locations will be actual charges...and I will ship worldwide! PayPal accepted for payment. I have over 50 pairs of these in stock, on the shelf, and ready to go.
PM me on this board or call toll free 877-930-4088.
Thanks,
Rick